Welcome to the Parents Booking 'Knowledge Base'
What is Parents Booking?
We have more than ten years' experience helping thousands of schools take millions of parents' evening appointments, as well as event, club, trip and associated bookings, online.
Parents log in online and select appointment times and/or tickets, places and seats that suit them
Parents can let teachers know of any issues or discussion topics ahead of parents' evening
Teachers check their appointments schedule in advance and prepare for their meetings
Parent-teacher meetings can be held by video call or in-person.
It's that easy – no queues full of students, appointment times are never lost
I want to know more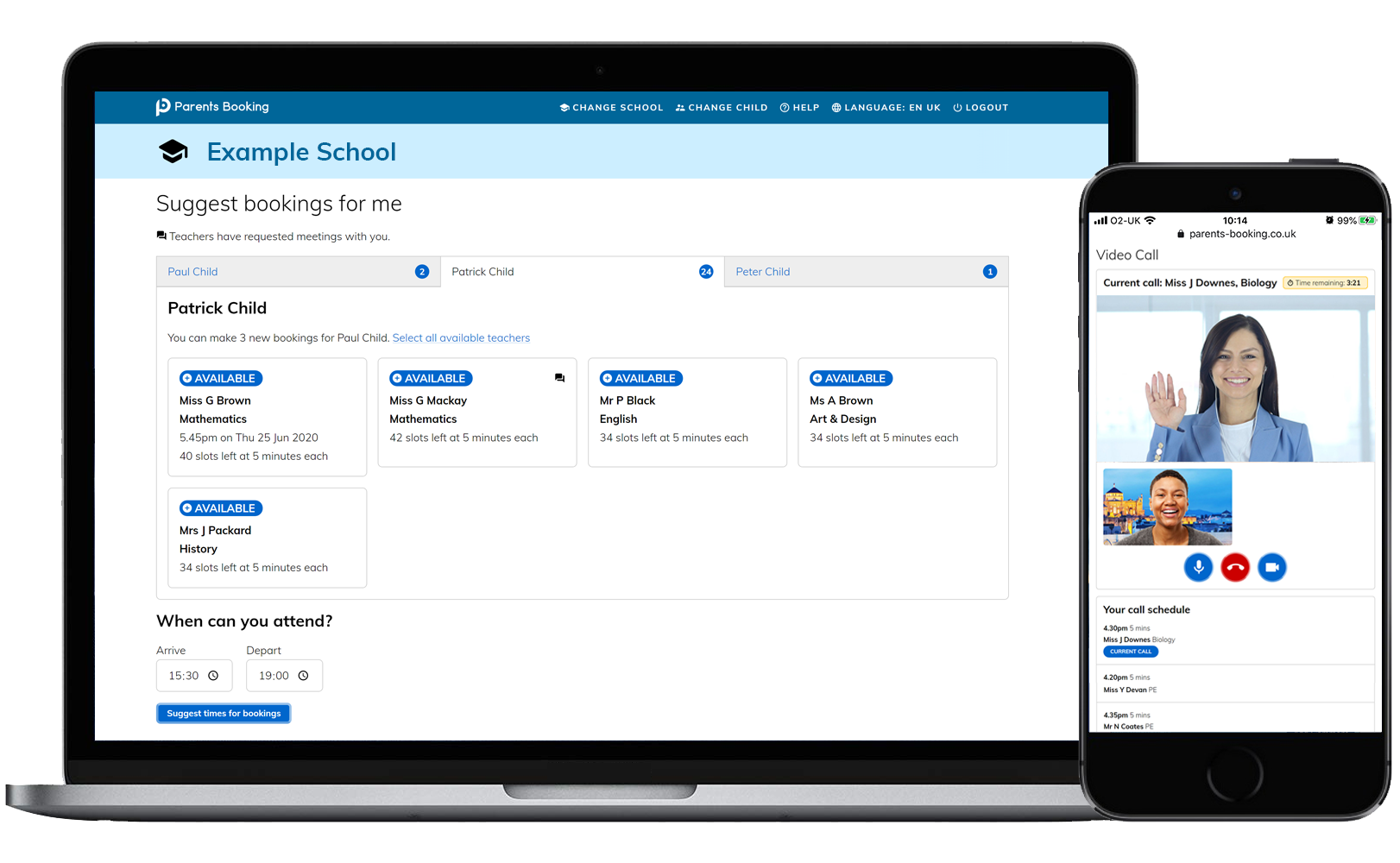 What are Parents Booking's benefits?
Run smoother, more effective parents' evenings, and take bookings for events, clubs and trips in a few clicks
Save hundreds of teacher and admin/staff hours annually
Increase parental engagement and attendance
Monitor and improve school performance indicators, e.g. help "close the gap" in attainment
We save schools more than they spend on our subscription in paper savings alone
Go paper-free, saving money and being more eco-friendly
We seamlessly fit into schools' digital strategies using integrations with your favourite EdTech products
I want to know the benefits
Try it for free
Just get in touch to arrange a demo or a completely free, no-obligation trial of Parents Booking.
I want a free trial
Why choose us?
We're the original and best parents' evening booking system, loved by schools and parents across the UK.
Why choose us?
Watch a demo
Get a feel for the software by watching a quick demonstration video. See how parents and the school use us.
Watch a demo
What does it cost?
We quote each school individually – get in touch to see what a year's subscription would cost for your school.
I want a quote
Modules and Integrations
We integrate with your favourite EdTech products so that you can easily 'plug us into' your digital offering.
Product support
Any problems? Try our guides, videos and FAQs, or email/call the support desk.
I need some support